Future-Skills-Leadership Transformation
---
Help for Ukraine while improving your Leadership and Culture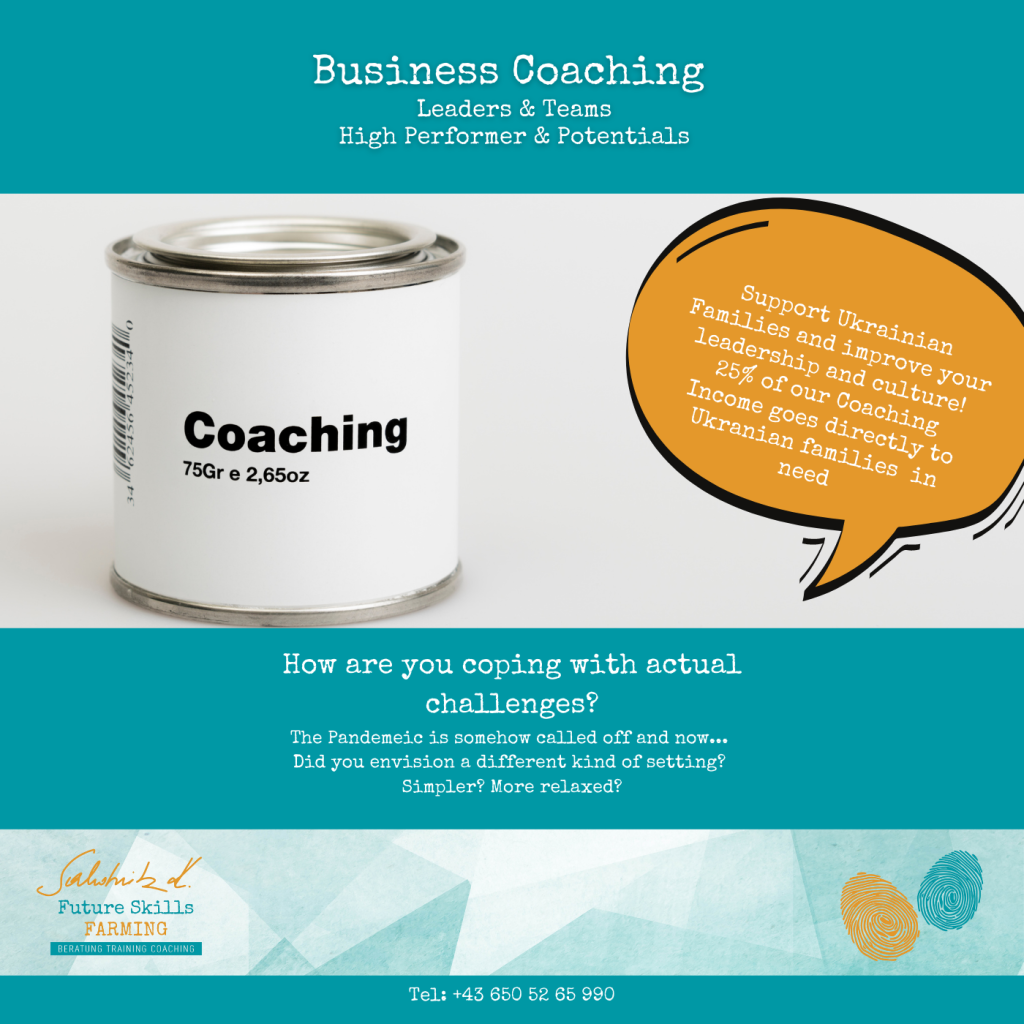 25% of all coachings purchased between 15 March and 30 July 2022 to Ukraine Aid AIDA Family Help
We, Karola Sakotnik and Gerald Peter Pfleger, have decided that our coachings purchased between 15 March and 30 June 2022 will support an initiative for Ukrainian artists. AIDA Family Help helps the families of former co-workers of mine, Karola. They were – and are – the best dancers you could wish for as a supervisor.  This aid initiative is administered by Inna Hermann, an outstanding artist with Ukrainian roots who has been living in Germany since her childhood. The money goes directly to the families, there are no costs retained apart from the transfer fees.
Seize the opportunity
Call here, find out more and also make your first coaching appointment: Karola +43 650 5265990 | Gerald +43 664 91 28 291
Usually, our clients book blocks of 5 sessions at a price of 1.600,-€ incl. 20% VAT in Austria. Individual appointments are possible, too. The coaching sessions take place online or in Graz and its surroundings .
With Karola you can also check available dates with your calendar and arrange a suitable date.

Future-Skills-Leadership Transformation
Sustainable companies are managed by leaders who are fit for the future. Transformation to Being Boldly Human and intelligent use of digitalization are the order of the day!
You learn how to create your success in a volatile future
With skills you don't learn in business school
HUMAN : DIGITAL AS A CENTRAL ASPECT
Human means to understand and be able to use the entire human potential in the sense of the richness of the human approach – focused, complex and ambivalent, as well as inspired.
Digital means understanding technology in order to cultivate its development for a future worth living.
Curious for more?
Here is an audio sample from the podcast Sales Up Call by Stephan Heinrich: Interview with Future Skills Farming founder Karola Sakotnik
TRANSCRIPT AS PDF – order now
Leadership for Transformation Summit on- and offline
28.8.2020
Live at Kornberg Castle – max 30 persons
Online via ZOOM – interactive and with direct answers
Online via Youtube – to watch and think along
BOOK NOW
21 Challenge Leadership for Transformation
Next Challenge starts on 6.8.2020
3 weeks of individual development on the topic of Future Skills Leadership Transformation – simply Being Boldly Human
Online
Daily 30 min
online blended learning: self-study and live support
Twice  a week live After Lunch Coffee Meeting
Fits also in 60 hours weeks
Content
Recipes for success for leaders in the current era
Future Skills and Things you don't learn in Business School
BOOK NOW
Subscribe to our newsletter:
NOTE: This form can only be sent after the correct PIN has been entered and consent(1) is activated within the meaning of the Austrian General Data Protection Regulation.