Future Skills Farming supports you to grow
Sustainable companies are lead by leaders. Individuals who are future fit. Transformation, also called deep cultural change, is the calling of the day, New Leadership is one of its tools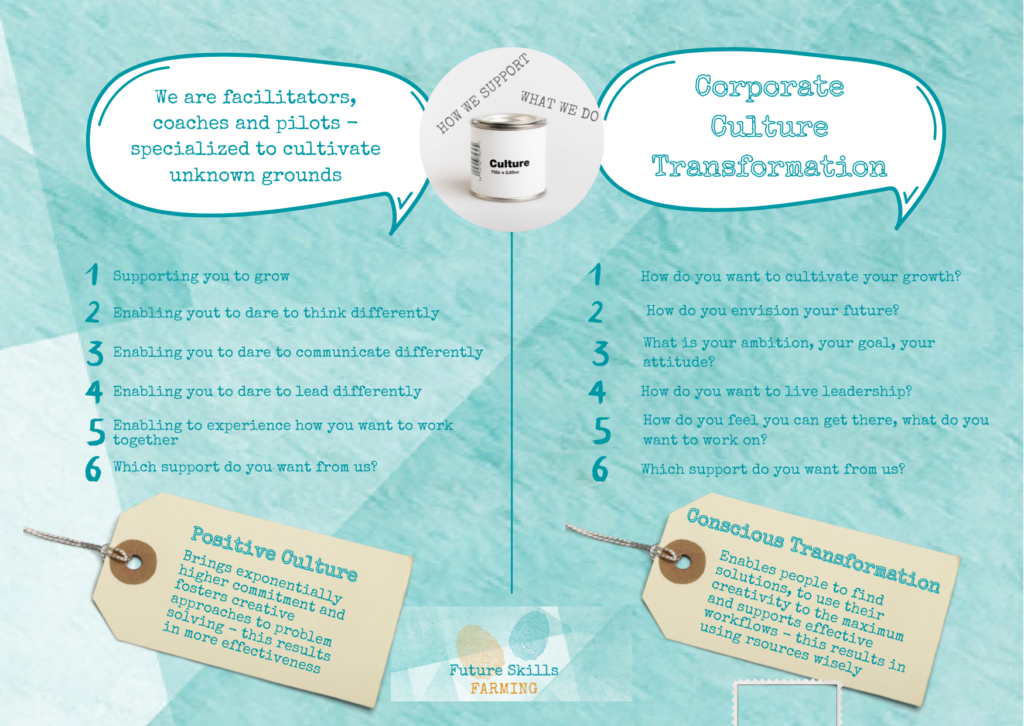 We believe that New Leadership in particular plays a central role in living a culture that prepares a good soil for a healthy and rich harvest. And we are convinced that new ways are needed to prepare this soil. Our customers decide for themselves what these ways look like. We accompany them in finding options and accompany you on your  path – we work WITH you and your team.
The areas we are supporting you as our customers:
Which area are you interested in? How can we be of service?
Culture development processes
Team development and training
Leadership development and coaching
Our Philosophy
BEING BOLDLY Human: is the art of mastering the whole range of human potential such as being emotional intelligent, creative, empathetic, intuitive and inspired
SMART UNDERSTANDING of Technology: is the art of understanding technology and the value within, using it smartly
IMPACT USAGE of Communication : the art of visualization using shared visualized images to enhance communication that works.
Edutainment – the opportunity to experience new thinking with ease and curiosity.
human.digital.dialogue | bold.smart.impactful
We have teamed up with the online event professionals from Organic Adventure and are constantly developing new formats for online edutainment. Short interventions to multi-part online courses on our Academy platform.
NEW: Meaningful Conversations- exclusive Online Knowledge and Socialising Events
The think tank to promote perspectives!
Let's open a discussion that promotes perspectives instead of serving bans, restrictions and end-time scenarios. So that the most important fuel for a successful future is spread, namely courage, confidence and hope.
Four times a year, we invite interested people to exchange ideas and discuss questions and answers on leadership topics with us, accompanied by experienced coaches and moderators.
Collecting knowledge and making it available
As of 2023, a brochure will be produced of each meaningful conversation, with all co-thinkers as co-authors.
Next dates
March 2023
June 2023
September 2023
December 2023
See here how it all started in 2020
Daring to think differently- cultural change happens when you dare to face the crisis with courage, confidence and trust
The Human Experience in a digital World
Knowledge and reflection – growing your wisdom
Tastings – activate the  senses
Live visualisations – create a common image
Concert and live music – speak o the creative and epathetic  part of  us
You can book your meaningful conversation in German, Italina or French. We will arrange the speakers accordingly. Karola will host in your preferred language. If desired, there will be translation into English in the chat and the discussion will be in your chosen language or bilingual.

Subscribe to our newsletter:
NOTE: This form can only be sent after the correct PIN has been entered and consent(1) is activated within the meaning of the Austrian General Data Protection Regulation.